15 Best Places To Visit In India During Christmas 2017
It's that time of the year when everyone in India is gearing up for the most joyful festival around to help beat the winter blues. The Christmas trees being decked up in malls, the enormous discounts on merchandise in stores, the sound of tinkling bobbles all around, and the sweet smell of plum cakes and candy wafting out of bakeries are tempting us all to turn this festive season into an even merrier affair.
So, instead of sitting at home this Christmas eve take yourself and your loved ones to one of these charming places to visit in Christmas in India whose fun rituals and exquisite traditions will surely give you an experience of a lifetime!
1. Goa
Image Source
Night long parties on beaches, friendly chats and cocktails in bars and pubs, cathedrals decorated with lights and flowers, and midnight mass in churches with little children singing melodious carols…there's nothing like a Christmas celebration in the hippest places to visit in Goa in December. You'll never run out of options for fun and festivities in Goa during Christmas, which is why it is among the best places to visit in India during Christmas!
2. Shillong
Image Source
For those who think there ain't any good places to visit during Christmas in the North-East, think again. With a considerable population of Catholics, Shillong in Meghalaya celebrates Christmas with as much zeal and enthusiasm as any other city in India.
Turning more paradisiacal and lovely in December, Shillong offers a plethora of fun and engaging activities during the festive season. It is undoubtedly among the best places to visit during Christmas in India.
3. Pondicherry
Image Source
Must Read: 20 Gorgeous Places To Visit In India This December 2017
With a pleasant weather in December, serene beaches to hang out at, and an endless number of gothic churches and cathedrals elaborately decorated to soothe the eyes, one will never have a dearth of Christmas vacation ideas and options when they're in Pondicherry. With so much to explore, on shouldn't miss out on a trip to Pondicherry on Christmas. From crunchy cookies, gift exchanges, Christmas trees, and a horge of activities for travelers during this time, there's no doubt as to how Pondicherry landed in the list of the best places to celebrate Christmas in India.
4. Kerala
Image Source
With what seems like the entire country flocking to Goa every Christmas, there aren't any options left for serenity seeking beach lovers but to sit at home. Right? Wrong. One can take a trip to Kerala on Christmas and sing carols at the midnight mass, witness the Christmas play, gorge on the local feast or have a bonfire on the beaches for a a more-than-merry experience! With so much to do during this favourite time in the year, Kerala is one of the best places for your Christmas vacation in India.
5. Mumbai
Image Source
If you fancy brightly illuminated Christmas trees on the sidewalk, malls and markets jazzed up with Christmas lights and props, and the delicious scent of fruit cakes and date rolls hanging in the air this Christmas, you should head to Mumbai, one of the best Christmas getaways in India. With lights, smiles, and music all around, Mumbai is, without a doubt, one of the best places to visit in Christmas in India.
6. Kolkata
Image Source
Oh yes, why not wait for Santa to bring you your presents in the City of Joy this year? Catholic or not, people of Kolkata celebrate the birth of Christ with as much vigour as those in the South, owing which it is among the best places to visit in India during christmas. Light & Sound exhibitions, rock band performances, glittering decor & heavy discounts on merchandise, Kolkata got it all!
7. Bangalore
Image Source
Suggested Read: 15 Mesmerising Places To Visit In Kutch This Winter
If Christmas to you is more about the tempting cuisines and desserts, then Bangalore is one of the best places to go for Christmas. Bathed in an exuberant festive spirit and rich in culinary delights, the city is spoilt for choices. On Christmas eve, head to Koshy's for their plum cake & ginger tea, Thomsons Bakery for their rum-soaked cake, or Caperberry for a tempting turkey dinner.
Get Custom-Made Travel Quotes from Trusted Agents
Get Custom Quotes
Get Best Deals for travel packages in your inbox
Get Travel Deals
Get custom travel guide prepared by travel experts
Get Travel Guide
8. Daman and Diu
Image Source
It may not prominently figure in the list of best places to visit during Christmas, but it surely is as fun during this time as any other Indian city. With several cultural shows, Corridinho (Portuguese dance) shows, midnight mass in the many churches located here, and the zillions of lamps illuminating the skies overhead, there's no reason one shouldn't visit Daman & Diu during Christmas! If not churches, one can visit the serene beaches of Diu during the festival of Christmas, an equally fun way to celebrate the spirit of India's most joyous festival.
9. Manali
Image Source
Not much of a beach person? Would you rather go to Himachal & spend Christmas in snowy hills? Himachal surely is one of the best places to visit in India during Christmas you know! So why not head to Manali for your fairytale Christmas where you can play in the snow, go skiing and snowboarding, hang out at the chic cafes, decorate Christmas trees, and sit by the fireplace in your snug little hut sipping on hot chocolate and waiting for Santa to arrive…
10. Delhi
Image Source
Suggested Read: 12 Best Places To Visit Near Delhi In December For A Perfect Weekend Escapade!
Just like any other festival, Christmas is celebrated with enormous enthusiasm in Delhi, which is why it prominently sits in the list of Christmas getaways in India. Malls & posh streets are stylishly decorated, clubs start throwing in theme parties, cafes & restaurants pull out special menus for the occasion, and one can feel the essence of all festivities in the atmosphere around them. There's no dearth of fun places to hang out in Delhi when here for your Christmas celebrations.
11. Shimla
Image Source
There are more than one Christmas holiday destinations for those dreaming of a white Christmas. Set off to the snow-laden hills of Shimla in December. There you can take a toy train ride watching snow capped hills from your cabin, eat at the various British-era cafes and restaurants at Mall Road and attend the mass at Christ Church, among other things to do on your trip to Shimla on Christmas. Without further ado, find out what makes Shimla in winter one of the best places to visit during Christmas in India.
12. Chennai
Image Source
When it comes to picking the best places to visit in India during Christmas, Chennai proves to be a great option. Apart from the carols and mass at its many churches, various hotels offer special buffet feasts, clubs host nightlong parties, the Phoenix Market City mall organises exciting activities, among various other fun festive indulgences. Without a doubt, it is one of the best places to visit in Christmas in India.
13. Lansdowne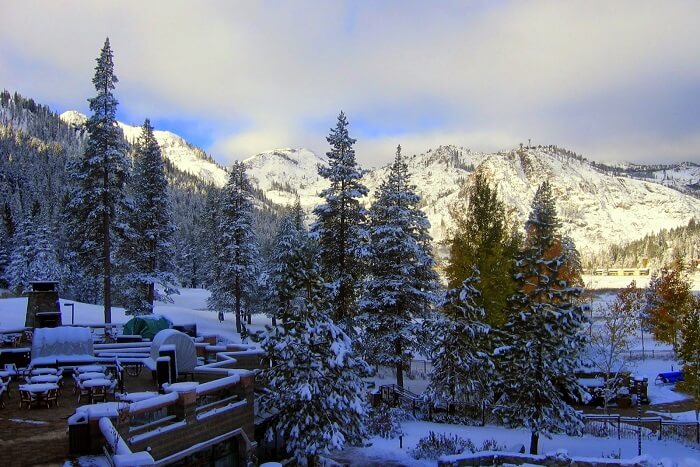 Image Source
For those scouting for someplace to celebrate Christmas away from the maddening crowd, Lansdowne is among the best places to visit during Christmas in India. Unspoilt and pristine, Lansdowne offers that much-needed break you have been craving from your busy everyday life. And what better occasion than Christmas to take that break! Head to this charming hill station with friends, family, or your beloved and celebrate Christmas with some bonfire, music, beautifully decorated Christmas trees, and gift exchanges.
14. Sikkim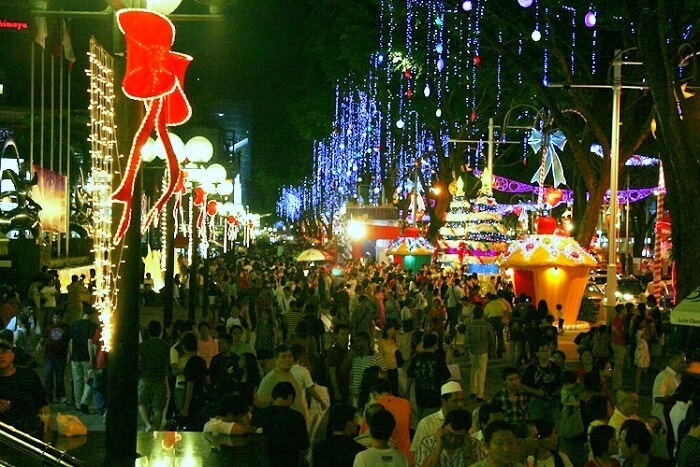 Image Source
At an altitude of 5,410 feet, Sikkim is that picture-perfect paradise that will surely make this festive season more fun and lively. Coupled with some beautiful sunset and dawn views and known for its unbelievably clean, stunning surroundings, this state is the perfect place for a Christmas vacation in India. The most favourite places of all trekkers and mountain lovers, Sikkim turns into a heaven once snowfall starts, which makes it one of the most incomparable places to visit in winter in India.
15. Dadra and Nagar Haveli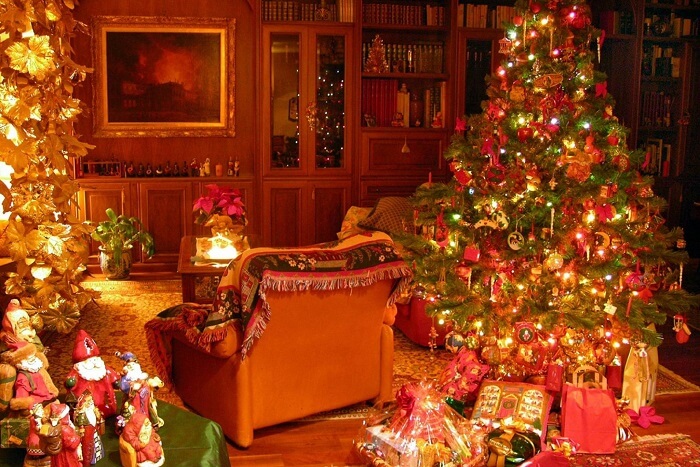 Wedged between the state of Gujarat and Maharashtra, Dadra and Nagar Haveli is a yet another quaint union territory where one can spend their Christmas eve like never before. Blessed with a lovely climate, this place is one of the best places to celebrate Christmas in India where this festive fervour comes with a tribal touch that will definitely be a unique and a refreshing experience for you and your loved ones. So, gear up for a quirky Christmas celebration and enjoy the warmth of this offbeat avenue this December.
Source by:-traveltriangle
Share: